Closed Cell Spray Foam Insulation
A development project cannot be defined by just designing a unique style or commercial project as there is tough competition in this market and success cannot be guaranteed. Demand in more comfort, durability and efficiency by customers when they move in to their dream homes lead to more competition. Stay ahead of the race by using Closed Cell Spray Foam Insulation and achieve superiority in the market by its supreme technology.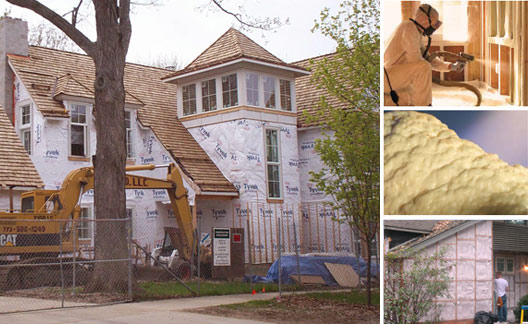 Advantages for Home Builders:
Installation in a jiffy
Highest R-value per inch
Huge range of applications
Downsize HVAC equipment to cut cost and space
Framing package flexibility
Advantages for Home Owners:
Robust structural strength
Save energy
Better sound proofing
Healthier indoor air quality
Controls moisture and condensation
Over several years, Closed Cell Spray Foam has been used as spray-in-place insulating foam in thermos bottles, commercial freezers, coolers and refrigerators due to its superior insulation features such as:
Air convection control
High R-value
Controls moisture in crevices
Controls air intrusion and infiltration


Closed cell spray foam, to my knowledge, is the only FEMA-approved insulation
typically used for cavity insulation in hurricane areas. This is because it does not store water !!!
Today, no other product in the market matches the high R-value of the Closed Cell Spray Foam as it acts as a barrier between indoor and outdoor climates, controls moisture build up and transfer, prevents air transfer and mold growth.
Also due to its self -hardening quality it does not shrink nor sag and has permanent adhesion. Enhanced design and construction is achieved as even a 2x4 has superior insulation and you are not limited to any roof or wall thickness. There is no venting required for cathedral roof ceilings with Closed Cell Spray Foam.
Robust structure and better adherence to surface application makes the building stronger and weather resistant. Imagine gluing each bit and piece of the building frame together; the racking strength of your walls could improve by 150%!